Technical Advisory Council
The Technical Advisory Council (TAC) of Resource Innovation Institute is advisory to RII's Board of Directors.
The TAC's charter includes:
Providing guidance on the development of industry standards related to energy, carbon, water and waste
Resource Innovation Institute
JOIN THE RII TAC
RII's Technical Advisory Council was initiated in February 2017 to determine the measurements that express resource efficiency in cannabis cultivation. The collection of leading cultivators, architects, engineers, manufacturers and utilities from multiple states and countries advised on the creation of the Cannabis PowerScore and have served as an ongoing sounding board on policy, education and other issues.
In 2019, the TAC's objectives are to advise on the development of:

Cultivation Best Practices Guides on LED Lighting and HVAC
Cannabis PowerScore upgrades related to water, waste and pre-construction modeling
Strategic engagement on policy and carbon sequestration
See Application Information Below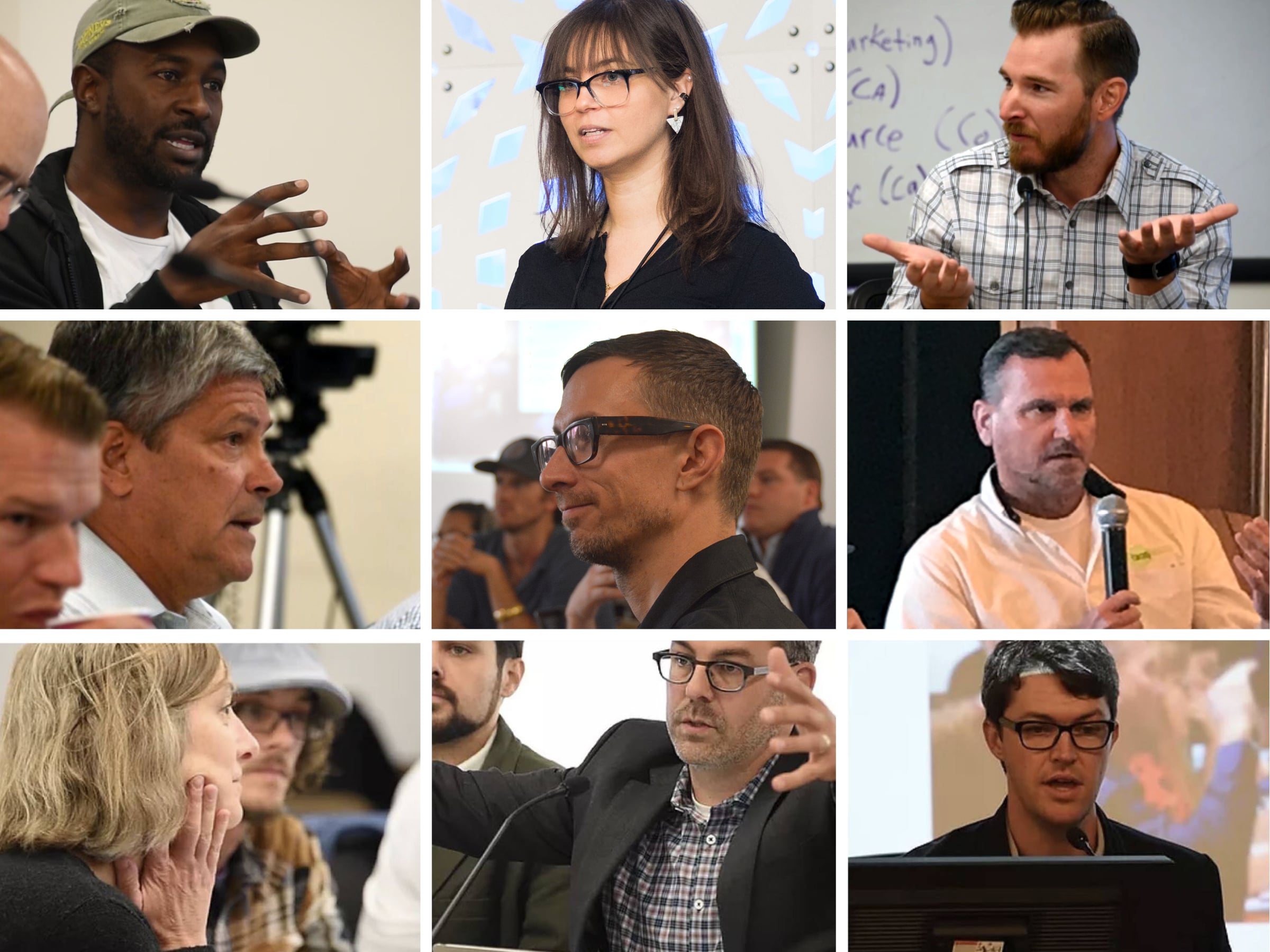 RII is currently recruiting applicants
for the following Working Groups, which will begin meeting this summer and fall.
Lighting – Advise on "Best Practices Guide on Cultivating Cannabis with LED Lighting" (estimated 10-20 page peer-reviewed document) to be released at MJBizCon Vegas Dec. 2019
HVAC – Advise on HVAC upgrades to Cannabis PowerScore, as well as "HVAC Best Practices for Cannabis Cultivation" (estimated 10-20 page peer-reviewed document) to be released at MJBizCon Vegas Dec. 2019
Water – Advise on upgrades to Cannabis PowerScore (questions, units of measurement, user experience), as well as outreach strategies; Review Cannabis Water Report
Waste – Advise on upgrades to Cannabis PowerScore (questions, units of measurement, user experience), as well as outreach strategies
Non-grid Power – Advise on upgrades to Cannabis PowerScore (questions, units of measurement, user experience), as well as outreach strategies and reporting alignment (BTU / CO2)
Policy – Advise on North American implementation of RII's policy template advancing resource efficient cultivation
Carbon sequestration – Advise on integration of hemp and cannabis into carbon sequestration accounting frameworks that lead to valuation of regenerative soil practices
Applications are due June 24, 2019. RII's Board of Directors will appoint Working Group members by July 1, 2019.
If you are interested in applying, please note the following:
Objectivity: TAC members are expected to represent the industry's interests related to resource efficient practices, not their company's interests in defending their market position
Composition: With some variation across Working Groups, RII generally strives for representation of 25+% cultivator, 25% subject matter expert (e.g., scientist, engineer, architect) and not more than 50% technology manufacturer
Term: Members will serve through mid-2020 or when the identified scope of the Working Group is fulfilled.
Frequency: Each Working Group will have input into its schedule, though it is generally expected that most will meet roughly once per quarter for 1-1.5 hours. The HVAC and Lighting Working Groups will be more time-intensive and will meet every other week due to the multi-stakeholder process related to development of Best Practices Guides.
Membership: Each Working Group member is expected to become a contributing member of RII to help fund the activities of the TAC. See our Join With Us page for more information.
2017-2018 Technical Advisory Council Members
Cultivation
Jesse Dodd is a lifelong gardener with a keen interest in living soils. He specializes in multifaceted composting strategies, utilizing appropriate biology, based on location and materials in an attempt to optimize the process. By tailoring composting techniques, Jesse develops site-specific plans to efficiently turn organic matter and agricultural waste into living soils while sequestering carbon and improving the quality of the medicine. He is the creator of Biovortex, a living conceptual art piece, utilizing the mediums of gardening, soil building, breeding, photography, writing, imagination, social media, conversations, events and presentations, with the goal of influencing the cannabis industry in the direction of a profitable and environmentally regenerative future. He has been involved in many cultivation events, including the Cultivation Classic (Portland), the Living Soil Symposium (Southern Oregon), Cannifest (Humboldt), the Spring Kick Off (Southern Humboldt), Cali Dep Fest (Santa Cruz), the Golden Tarp Awards (Southern Humboldt) and the Emerald Cup (Sonoma County).
Jacob Freepons is Founder of Kanna Botanicals and is a third generation farmer and a cannabis cultivator of over 15 years, with a large volume of work in design and development of both cannabis and regenerative, organic farms. Specific examples of these range from indoor grow environments to off-grid passive solar greenhouse projects and the design and construction of the world's largest aquaponics facility. His most recent work involved the extensive design, build and management of a demonstration farm that integrates "waste to resource" technologies (fuel, heat, nutrients, water, etc.) with beyond organic food production in a mix of 14 acres of greenhouse and field operations.
Born raised in a big Oregon family that has generational roots in Oregon. Tyson went to high school in Eugene and to college at U of O for Sustainable Business Management and graduated from the University of Phoenix for Business Management and Marketing. Tyson worked for Oregon's own, Organically Grown Company directing operations for the NW region's largest organic produce wholesaler. Tyson started growing medically in a garage for Michelle in 2007, the two started Solar Fresh LLC in 2010 with a basement medical cannabis grow and a backyard 20'x20' lit greenhouse to grow local organic wintertime tomatoes and sell them to New Seasons market and local farmers markets in the off season. Tyson and Michelle started farming cannabis full time as sofresh farms shortly after the passage of Oregon HB3460. Tyson helped open Oregon's Finest Pearl district location in 2014–Oregon's first state licensed dispensary. He is regularly asked to speak about regenerative growing techniques and business practices. As Board Member and PAC chair of the Oregon Cannabis Association, Tyson actively engages local and national politicians to support positive changes to cannabis laws—de-schedule cannabis!
As Denver Relief Consulting's Lead Cultivation Consultant, Nick Hice works hands on with cultivators and facilities internationally, where he interacts with a variety of teams utilizing a range of mechanical systems and sustainable practices. In that role, he is also actively involved in the design, layout and construction process for many DRC clients. Mr. Hice is an active member of National Cannabis Industry Association's Cannabis Cultivation Committee and the Cannabis Sustainability Workgroup established by the City of Denver Dept. of Environmental Health.
Jeremy Plumb is CEO of Newcleus. In that role, he has designed a state-of-the-art glasshouse production facility in Aurora, Oregon. With 20+ years cultivation experience and an environmental studies degree from New College of SF, Mr. Plumb has developed some pointed and distinct insights about the adoption of ecological thinking. He has also established an international network of scientists and thought leaders to establish best practices in cannabis cultivation. As founder of the Cultivation Classic, Mr. Plumb is partnering with RII to collection a cannabis production carbon footprint data set.
Casey Rivero is Cultivation Manager at Yerba Buena, a cannabis producer near Hillsboro, Oregon. Yerba Buena was the first cannabis farm to receive Energy Trust of Oregon rebates. Mr. Rivero's background is in facility and irrigation design and maintenance. He has nearly 20 years of cultivation experience, managing indoor, outdoor, greenhouse, permaculture and light deprivation gardens on a variety of scales. He has also owned and operated a cannabis cultivation facility design firm.
Trying on cannabis policy after 12 years in energy. The same combination of grassroots+business support, public opinion, and an evolving marketplace that allowed solar energy to move into the mainstream exists today in cannabis. Few other market changes can drive such massive environmental and public policy benefits while generating such significant wealth. I still play in clean energy too. I am experienced across a range of geographies with a focus on solar. I have experience within federal and state regulatory agencies, and am well versed in both the supply and demand side.
Manufacturing
David Berlin is the Commercial Technology Manager for Hydrologic Purification Systems. At Hydrologic, he focuses on designing sustainable water treatment plans utilizing reverse osmosis technology; these systems are currently utilized by various cannabis producers throughout country. All water treatment plans focus on minimizing water usage while producing high purity water to meet the established standards for each project. Mr. Berlin covers all aspects of specifying reverse osmosis systems into new facilities as well as traveling throughout the country to provide training and technical services. Prior to working with Hydrologic systems, he intensively studied at the University of Rhode Island and received a BS in Aquaculture Technology. For the past 9 years, he has worked on agriculture facilities to maintain water quality and water filtration systems.
Eric Brandstad is CEO of Forever Flowering Greenhouses and has been a featured speaker at many cannabis events including the keynote at Imperious Expo and the featured greenhouse expert at The Cannabis World Congress and Exposition, Cannabis Collaborative Conference, Cultivation Classic, RII Cannabis Energy + Water Summit, The Emerald Cup, Santa Cruz Cup, The Golden Tarp Awards, The Cali Dep Fest, Humboldt High Grade Gala, CannaCon and the NCIA Cultivation Management Symposium. Mr. Brandstad has been managing Forever Flowering Greenhouses since 2007. He's originally from San Joaquin County where his family has been commercially farming since 1862. Since starting with FFG, he has toured and consulted with hundreds of greenhouse owners to help them understand how their plants react in a greenhouse environment.
Jonathan Cachat Social Neuroscientist (PhD) specialized in behavioral psychopharmacology - aka - investigating & understanding the interplay of psychoactive compounds, the brain, behavior and social policy. With a strong IT background, Jonathan approaches these questions using contemporary data science techniques to integrate heterogenous, seemingly divergent data types. These skills are now being applied to developing sustainable farming techniques - a marriage of technology, soil & the sun. Jonathan recognizes the integration of divergent information through diverse collaboration is the path to knowledge - the only way to make major strides in understanding the universe, the things inside of it and the things inside of the things that are on it.
Keith Coursin is the president of Desert Aire LLC, a Milwaukee-based manufacturer of integrated environmental control systems including GrowAire™ Systems for the cannabis cultivation industry. In addition to his duties at Desert Aire, Mr. Coursin served in 2009 as chairman of the board of directors of the Air-Conditioning, Heating, and Refrigeration Institute (AHRI). He has also served on numerous AHRI committees. Mr. Coursin is also a member of the American Society of Heating, Refrigerating and Air-Conditioning Engineers (ASHRAE). Keith Coursin's efforts to drive market-based solutions that promote resource efficiency include development of the Centers for Disease Control and Prevention's Model Aquatic Health Code as well as ANSI/ACCA standards detailed in the CDC's HVAC Design for Swimming Pools & Spas (Manual SPS).
Brandy Keen has been designing and consulting for environmental systems in indoor agricultural facilities for over ten years. In 2007, Ms. Keen co-founded Hydro Innovations where she served as its Director of Operations where she developed a sophisticated knowledge of the controlled environment agriculture industry and established herself as an expert in the garden and indoor climate. Currently, Ms. Keen is the Co-Founder and Senior Technical Advisor for Surna, Inc., which acquired Hydro Innovations in 2012. Surna develops innovative technologies and products that monitor, control and address the energy and resource intensive nature of indoor cannabis cultivation. Surna also provides consulting and reporting services for climate control, odor control mitigation and biosecurity. In her role at Surna, she is required to guide licensed PE's in mechanical design of facilities, teach solutions to consumers who know little about the systems they are purchasing, design systems that meet local regulations and reduce energy consumption, and improve on standard and outdated practices. Ms. Keen's expertise recently brought her to participate in the Cannabis Sustainability Work Group through the City of Denver, as it looks to provide best practices for sustainability (including energy efficiency) in the cannabis industry. Her coverage of a worldwide market has exposed her to every conceivable cultivation practice, giving her a wealth of experience shared by few.
Dan Peltinov is Co-Founder and Head of Research & Development for Drygair. In that role, Mr. Peltinov has worked jointly with the Israeli Agricultural Research Organization to develop an energy efficient unit to save energy in greenhouses and indoor growing facilities. He is an experienced engineer in the fields of refrigeration and air conditioning systems for the agriculture sector, including cannabis, as well as blood banks, giving him a broad perspective of the problems and needs of the medical cannabis industry.
Bill Whittaker has been in the horticulture industry for the past 20 years, with the last 10 years at Priva North Americacovering the North American market. His experience includes precision climate and irrigation control for indoor agriculture and greenhouses, and providing precision control equipment for open field irrigation. Mr. Whittaker serves on the Advisory Council of the School of Environment and Horticulture at Niagara College in Ontario, Canada.
My interests lie in enviromental protection and sustainabilities - whether that has to do with energy efficiency, eco-responsible business practices, researching new govt legislations, or simply doing a community trash clean-up, count me in. I get deeply engaged in program management, analytics and business development activities, as I like to dig into detail in order to determine trends and potential gaps, but also have the bandwidth to intiate and drive new processes internally and externally. I'm looking to continue to grow in this exciting field through through new business ventures and initiatives.
Neil Yorio leads the research and development of LED Agricultural Lighting Research for BIOS, an agricultural lighting company. He is an internationally recognized expert in electrical lighting systems and controlled environment crop production. For more than two decades, Mr. Yorio worked at NASA Kennedy Space Center where he participated in several agricultural lighting research programs with bio-regenerative life support programs directed towards the sustainability aspects of living in space or extraterrestrial environments, with the main challenge of energy conservation and resource recycling for optimizing mission success. He has a B.S. and M.S. in Cellular and Molecular biology from the Florida Institute of Technology. He has participated in DesignLights Consortium (DLC) and serves on the American Society for Agricultural and Biological Engineers (ASABE) in developing the academic standards for reporting agricultural lighting technology performance.
Design & Construction
Jim Brown is the founding architect of URBANADD Architects and has over 30 years of design and construction experience, working on prominent civic projects of all sizes and degrees of complexity, across the country. Early in his career, Mr. Brown was a design principal on Seattle Symphony's Benaroya Hall, and spent six months working in the Office for Metropolitan Architecture (Rem Koolhaas) in Rotterdam, Netherlands, on the Seattle Public Library. He also spent 5 years as the design team leader for the LEED® Platinum certified Vancouver Convention Centre West in Vancouver, British Columbia, Canada. Most recently, the firm has bolstered its brewery, winery and distillery expertise, with cultivation facility design, which includes clients like Solstice, Downtown Cannabis Co., On your Six, botanic SEATTLE, and Ayra.
Matthew Gaboury is Director of Operations and Co-Founder at Calyx King Consulting, where he designed Washington's first and highest-grossing large-scale cannabis operations. He has served as an architect, contractor and grower in the cannabis industry, and has designed over two million square feet of production space that includes indoor, greenhouse, hybrid greenhouse and full outdoor. Mr. Gaboury has an MS in Architecture and degrees in structural engineering and industrial design.
Ian Gordon, Co-Owner of GroTec Builders, has been a contractor for more than 15 years. He has worked both residential and commercial projects where he gained a solid grasp of all aspects of a build - from electrical to HVAC, to structural and plumbing. Seven years ago Ian was brought into a small grow facility and, thanks to his broad scope of knowledge, quickly earned a reputation as a leading one-stop shop for growers throughout Oregon and Washington. After years of cultivating on an industrial scale, Mr. Gordon refocused his efforts on building and systems design. He has since built a wide range of multi-sized facilities, and has expanded his business into multiple states. He lives in Corbett, Oregon, with his two children, and his wife/business partner.
Entrepreneurial Business Executive with commercial success in building relationships, market strategies, growing sales, brands, commercial infrastructure, leading teams, and expanding commercial capabilities. Significant experience in the technical requirements of controlled environments for horticulture and agriculture and knowledgeable in the fields of agribusiness, sustainability, energy efficiency, and renewable energy.
Morgan Pattison is founder and President of Solid State Lighting Services, Inc. (SSLS). SSLS is a technology consulting, firm founded in 2008, focused on LED lighting technology. In this capacity Morgan works with clients to evaluate advanced LED lighting technologies, products, and solutions. Clients include: the US Department of Energy, investors, start-ups, large corporations, and purchasers of advanced lighting products. Morgan has a Ph.D. in Materials Science from University of California, Santa Barbara and performed his thesis research under Shuji Nakamura (2014 Nobel Prize winner in Physics for the invention of the blue LED). Morgan also holds Master's and bachelor's degrees in Electrical Engineering and is accredited as 'Lighting Certified' (LC).
Josh Stephenson has HVAC, process automation, and energy monitoring experience in a variety of large commercial and industrial buildings, including cannabis production centers and data centers. Mr. Stephenson has worked for both MacDonald-Miller and Schneider Electric. He has an MBA from Willamette University.
Energy / Utility
Commercial Building Energy Efficiency professional. Member of the committee that drafted the New Buildings Institute Advanced Buildings Program Core Performance Guidelines. Member for the Com. of MA. Board of Building Regulations Energy Advisory Committee. Member for the Com of MA ZNEB committee. Sustainablity LEED for 2010 National Grid 318,000 square foot LEED Platinum CS and CI office project.
Expertise in data center and laboratory energy efficiency.
David Berlin is the Commercial Technology Manager for Hydrologic Purification Systems. At Hydrologic, he focuses on designing sustainable water treatment plans utilizing reverse osmosis technology; these systems are currently utilized by various cannabis producers throughout country. All water treatment plans focus on minimizing water usage while producing high purity water to meet the established standards for each project. Mr. Berlin covers all aspects of specifying reverse osmosis systems into new facilities as well as traveling throughout the country to provide training and technical services. Prior to working with Hydrologic systems, he intensively studied at the University of Rhode Island and received a BS in Aquaculture Technology. For the past 9 years, he has worked on agriculture facilities to maintain water quality and water filtration systems.
Theresa Haskins is Business Market Manager for Portland General Electric. She brings 23 years of electric utility experience in construction operations and marketing. With an agricultural background as a farm owner, Ms. Haskins has a unique perspective on how to connect cannabis producers, processors and retailers with the information and resources needed to build the industry and support electrical construction and energy efficiency.
Bryan Jungers conducts research on emerging, energy-efficient and distributed-energy resource technologies at E Source, a firm that helps utilities and large energy users with critical problems involving energy efficiency, utility customer satisfaction, program design, marketing, customer management, and sustainability. His main areas of expertise lie in resource-efficient cannabis cultivation, plug-in hybrid electric vehicle development, battery and energy storage cost-effectiveness, distributed generation integration and renewable energy power systems. Mr. Jungers has 10 years of experience as an energy engineer and analyst, including for the Electric Power Research Institute (EPRI), California Energy Commission (CEC) and University of California at Davis (UC Davis). He worked as a research manager and product manager at E Source before entering his current role as Lead Analyst. He holds a BS in environmental resource engineering from Humboldt State University, where he studied cannabis resource use and environmental impact, and an MS in civil and environmental engineering from the University of California at Davis. He was also involved in various capacities in the Humboldt cultivation industry for more than a decade. Since 2013, he has consulted on the appropriate use of efficient technologies in indoor cultivation facilities.
Alexi Miller is Senior Project Manager with the New Buildings Institute (NBI), a nonprofit organization working to improve the energy performance of commercial buildings. NBI works collaboratively with commercial building market players—governments, utilities, energy efficiency advocates and building professionals—to remove barriers to energy efficiency, including promoting advanced design practices, improved technologies, public policies and programs that improve energy efficiency. NBI created and administers the Advanced Buildings Program, a voluntary program for deep prescriptive above-code commercial building energy performance. Mr. Miller drafted and advocated for the first effort to establish lighting energy efficiency code minimum level for indoor agriculture in the 2018 International Energy Conservation Code (IECC).
Amanda Potter leads the Industry and Agriculture program at Energy Trust of Oregon. She has 20 years of experience designing, developing and implementing energy efficiency programs. Amanda started her career at Portland Energy Conservation, Inc. (PECI) managing retrocommissioning projects, and over time grew her portfolio to include all commercial programs at PECI. Before joining Energy Trust, she was Vice President of Northwest Operations at CLEAResult. She has extensive experience developing strategies for overcoming market barriers to energy efficiency and increasing program uptake year over year. Amanda received her Bachelor of Science in Electrical Engineering from Cornell University and Master of Engineering from L'Ecole Centrale de Lyon, France.
Jeremy Del Real is Senior Energy Engineer at Center for Sustainable Energy, where he helps commercial and industrial clients determine how best to conserve energy and pursue alternative cleaner forms of energy generation. He is currently part of a team working on a US Dept. of Energy (DOE) program that provides technical assistance for combined heat and power (CHP) projects, including a large commercial greenhouse using CHP to generate heat and power while also capturing CO2, reducing their need to purchase CO2 while lowering overall carbon emissions. Mr. Del Real holds a professional engineering license in California, Hawaii, Massachusetts and Oregon, and is a certified energy manager (CEM). He has a mechanical engineering degree focused on HVAC design from Cal Poly-San Luis Obispo.
Expertise in data center and laboratory energy efficiency.
Tommy Young founded E3 California, Inc. in 2007 to be a one-stop-shop for Title 24 HERS testing and compliance documentation. Realizing a need in the industry for HERS Raters and Special Inspectors who were fluent in both building science and the nuances and politics of the energy code he's gone on to hire and develop and mentor an elite team of HERS Raters and Certified Energy Analysts. E3 is proud to have always had an Advocacy Division. Tommy served for three years on the Board of Directors of CAEBC' The California Association of Building Energy Consultants, as well as being a member of the California Energy Efficiency Industry Council (CEEIC) and the California Public Utilites Commissions: The California Compliance Industry Advisory Group (CA-CIAG). He frequently speaks at affordable housing and transit oriented development conferences as an advocate for common sense energy policy and regulations that grow the market and do no harm. When not pursuing his love of analyzing parametric modeling runs, Mr. Young can be found enjoying the company of vintage guitars, hoppy IPA's, his lovely and strong wife and their two above-average furry children.
Massoud Jourabchi is Manager of Economic Analysis for Northwest Power & Conservation Council, which balances the environment and energy needs across Oregon, Washington, Montana and Idaho. Mr. Jourabchi is responsible for regional economic forecasts, electricity demand forecasts, forecasts of energy prices and analysis of the economic structure of power markets. He has been working in the field of energy policy analysis for over 25 years, including at PacifiCorp, PECI, State of Massachusetts Executive Office of Energy Resources and Center for Energy and Environmental Studies at Boston University. Mr. Jourabchi was a doctoral candidate in economics, and has two master degrees in economics and political economics. Recently, he has been working on developing demand forecasts for cannabis cultivation, working with a team of growers, regulatory and energy efficiency bodies in Oregon.
University Research
Dr. John Lea-Cox is a distinguished and published Professor in the Dept. of Plant Science and Landscape Architecture at the University of Maryland, where he teaches courses in Greenhouse Management and Principles of Substrate, Irrigation, Water and Nutrient Management. He is the state extension specialist for the Nursery and Greenhouse industry in Maryland. Dr. Lea-Cox has served as Research VP on the board of the American Society for Horticulture Science and serves on USDA Committees, including the Controlled Environment Technology and Use and Water Management and Quality for Ornamental Crop Production and Health committees. He has a PhD in Plant Physiology from the University of Florida. From 1993-96, Dr. Lea-Cox was a research associate at NASA Kennedy Space Center, working on the Bioregenerative Life Support System project, for manned missions to Mars. He is also President of Systematic Sensing LLC, an environmental consulting company specializing in advanced technology solutions for water and nutrient management for ntensive plant production systems.
Filip van Noort is a Crop Research Specialist at Wageningen University, the leading food and life sciences university in Netherlands, where he performs general practical applied research with flowering and green pot plants, ornamentals and greenhouse vegetables. He has 25 years of experience researching the effects of light, climate, water, fertilization and CO2 on a large variety of plants. Mr. van Noort is widely published, and recently co-authored "Effects of diffuse light on radiation use efficiency depend on the response of stomatal conductance to dynamic light intensity" in Frontiers in Plant Science. Current clients include European LED manufacturers developing lighting products to serve the global cannabis cultivation industry.
Environmental Engineering
Catherine Drumheller is Principal of Oak Services LLC, which provides environmental consulting services for domestic and international environmental and water resources projects. Her expertise includes quantitative analysis of performance metrics and sustainable project program design related to sustainable water resources development, environmental engineering and environmental chemistry. Her interests include water resources science and management, climate science, sustainable development, environmental physics, energy technology, food and agriculture, gender equity and feminism, and the democratization of education and learning. She has a keen understanding of water and power demands are inextricably linked with climate and justice impacts. As a member of the Cannabis Sustainability Workgroup established by the City of Denver Dept. of Environmental Health, Ms. Drumheller was lead author of the Best Practice Guide.
Kathy Lombardi, PE, is a Senior Environmental Engineer with Maul Foster & Alongi (MFA) and is licensed in Colorado, Oregon, Washington and Idaho. She has more than 20 years of experience leading and supporting water resource, agricultural production, water supply and demand, water rights, agricultural runoff water quality analyses, farm budget development and on-farm renewable energy feasibility projects for a variety of clients. She has conducted applied research on water use and water demand in the cannabis industry in support of development of environmental and sustainability best practices for Oregon Liquor Control Commission (OLCC). She is familiar with regulatory programs affecting water resource, agricultural and environmental projects, and has provided expert testimony and litigation support throughout her career. Previously, Ms. Lombardi was an environmental engineer with US Dept. of Agriculture's Natural Resources Conservation Service and was an active member of the national agency-wide Renewable Energy Team, researching and field testing biomass, wind and solar energy technologies for on-farm enterprises.
Josh Long is President & CEO of E4E Solutions, LLC, an industrial sector focused energy efficiency consulting, design and project delivery firm. Mr. Long brings a broad perspective on technology and process solutions from a range of client industries, including alcohol, agriculture and pharmaceuticals.