Directed by ownership, architects, contractors, engineers and consultants combine to form a facility design dream team.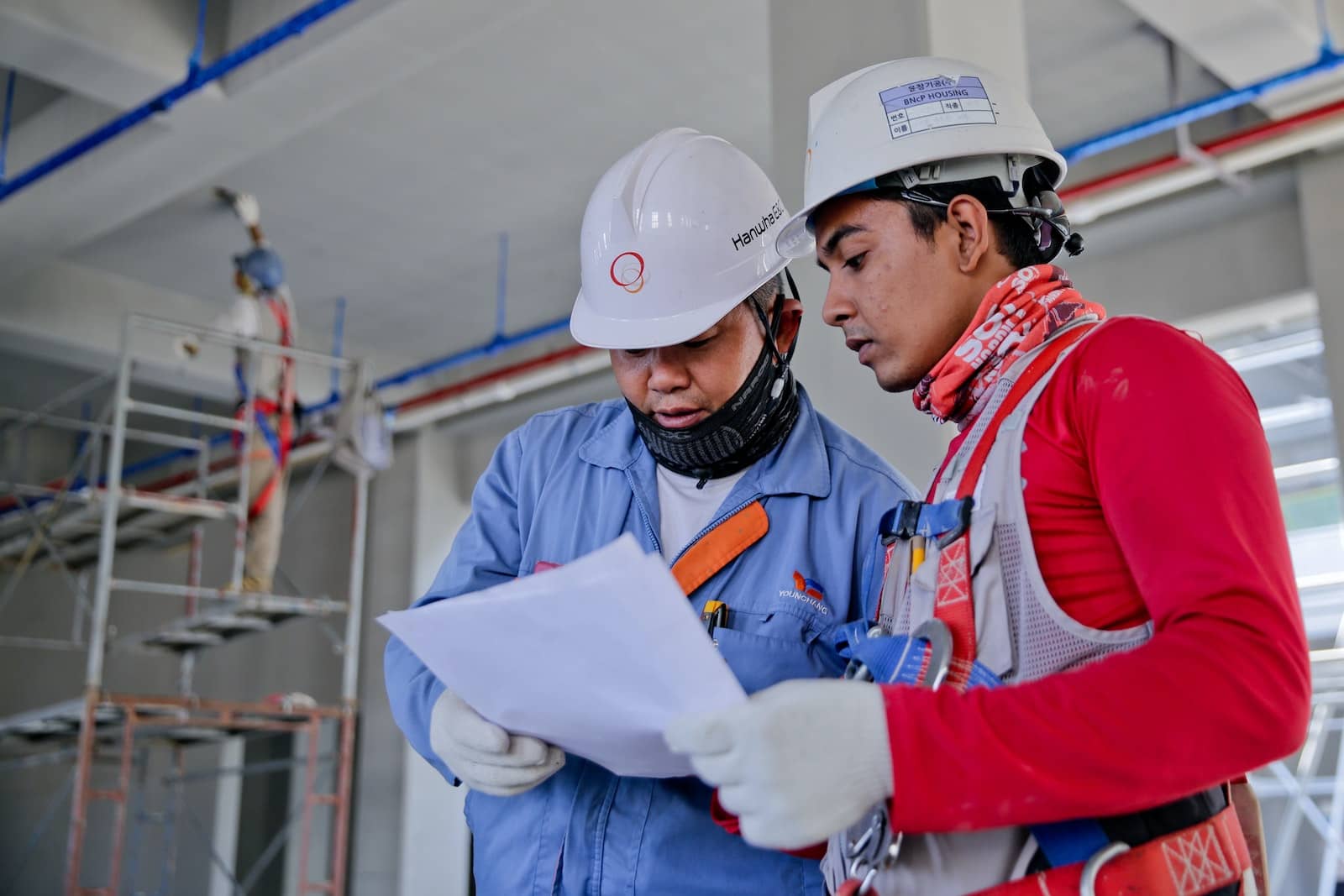 Once an entity decides to construct a new leafy green-producing greenhouse, or renovate an indoor cannabis cultivation operation, they are embarking on a controlled-environment agriculture (CEA) venture that will involve core team members and dozens of specialists over several months, if not years.
The journey they are about to begin is riddled with expensive risks and time-sapping pitfalls, and can be a true test of an entrepreneur's patience and drive to succeed.
But by assembling the right architects, contractors, engineers, and specialists, the burden can be shared and the road made less daunting.
Here's how to build a stellar CEA facility design team.
Owners, Architects, and General Contractors
The core team of any facility design project starts with the facility's owner, a contractor/builder, and an architect, says Brian Anderson, partner at Anderson Porter Design and RII Technical Advisory Board member. "If you've got the right folks in that triumvirate, you're gonna do well."
The architect and contractor should have experience building the desired CEA facility type (greenhouse or indoor), and ideally also should have crop-specific experience to minimize the risk of production issues down the road. "Different crops are going to require different humidity levels and different lighting levels and different climate conditions on the inside," says Jon Crozier, National Business Development Manager at Hansen-Rice.
Anderson agrees, adding that an architect with experience building leafy green or tomato production greenhouses might not understand the need for HVAC systems for a cannabis operation. "You can't just vent the greenhouse at the top because the neighbors are gonna complain about the odor. So if you can't vent the greenhouse and you have to cut back the humidity, you need a very sophisticated mechanical system," he says.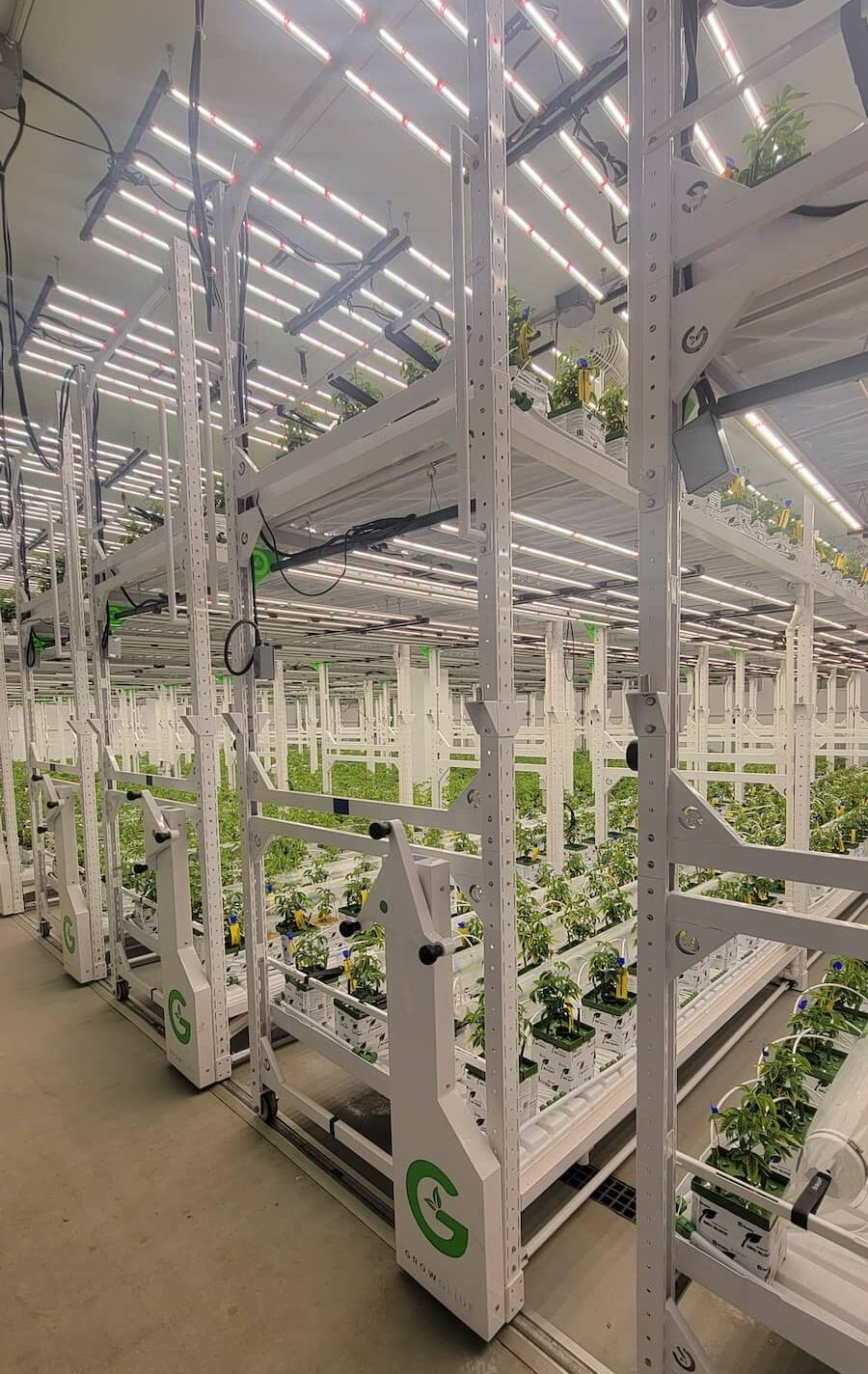 Indoor vertical farming operation with LED lights
Photo courtesy of Anderson Porter Design
When selecting team members, Crozier and Anderson both agree on the importance of verifying experience. "Ask for a list of projects," Anderson says. "Not every project list necessarily has a phone number and email address of the CEO, but ask for a project list and ask for a phone number and email address of five or six of them."
When searching for an architecture and engineering (A&E) or design build firm, Crozier also suggests "partnering with a firm or someone who has relationships with the permitting jurisdiction (AHJ – Authority Having Jurisdiction)." The AHJ is the agency that will be permitting your drawings and construction project. "Understanding that jurisdiction's policies and regulations with access to planners inside that entity is crucial to a streamlined permitting process and build," Crozier says.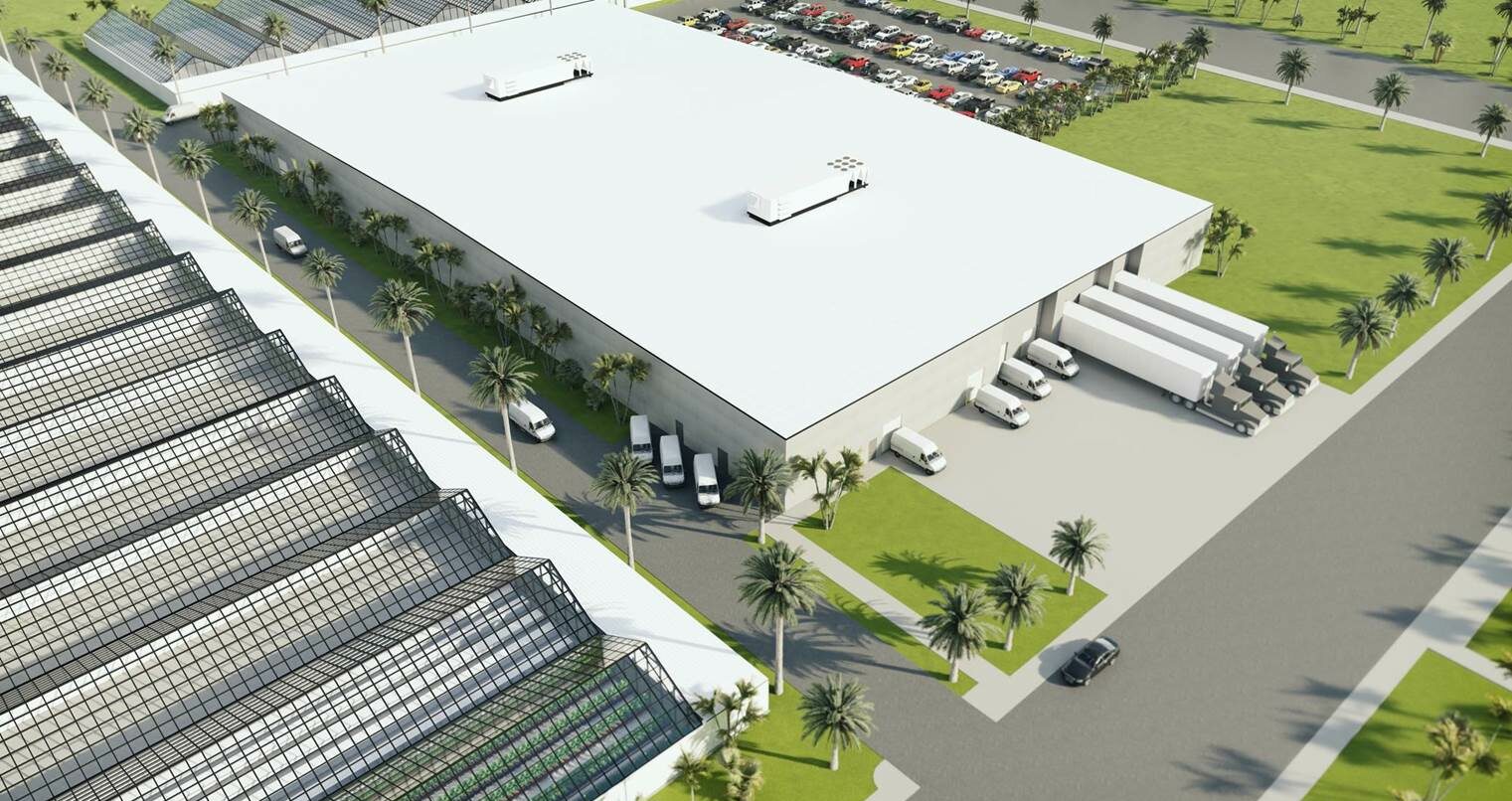 Facility drawing of a vertically integrated CEA facility from cultivation to distribution.
Photo courtesy of Hansen-Rice
Another good question to ask general contractors or lead builders, Anderson says, is whether they have good relationships with experienced tradespeople in the area. "The people who show up to do work every day don't get hired by the owner. They get hired by the general contractor," he says, so having access to a local network of experienced subcontractors can increase productivity and decrease risk.
Once the core team is assembled, the owner should be working on the Owner's Project Requirements (OPR), the "single most important document to guide design development for an existing or new cultivation facility," according to RII's Facility Design & Construction Best Practices Guide. "An OPR defines the Owners' goals, objectives, and performance metrics and is developed by the owner (not your design team)."
When building an OPR, owners should "define what success looks like for your facility and your parameters for success before ending the pre-design phase. Describe the environmental conditions you would like to achieve and elaborate on energy efficiency goals and how you would like the project to accomplish them."
Download Resource Innovation Institute's Facility Design & Construction Best Practices Guide here for more information, expert insights, and tips on everything that goes into designing efficient and productive CEA facilities.
Engineers and Specialists
The OPR will greatly inform with which types of engineers and specialized workers an owner and their core team will work.
Most projects will require a civil engineer, a structural engineer, a horticultural process engineer, and a systems engineer (including mechanical, electrical, plumbing, fire protection, or MEPFP). Additionally, involving commissioning agents early in the process can help ensure the facility runs at peak efficiency when it officially launches.
A structural engineer is needed whether the project is a retrofit or new construction, Anderson notes. "Civil engineers are critical engineers who help navigate the local requirements around traffic, exterior water management, and overall site design," he says. Horticultural process engineers, ideally with crop-specific experience, are also a must to have on-boarded and involved in the early planning stages.
For fully integrated facilities with multiple manufacturing and processing activities, more engineers and consultants might need to be involved in the design and build process. Facilities with food product manufacturing capabilities will need to engage with food and safety engineers, while extraction labs will require hydrocarbon and/or ethanol process engineers to closely collaborate with your team's civil and systems engineer.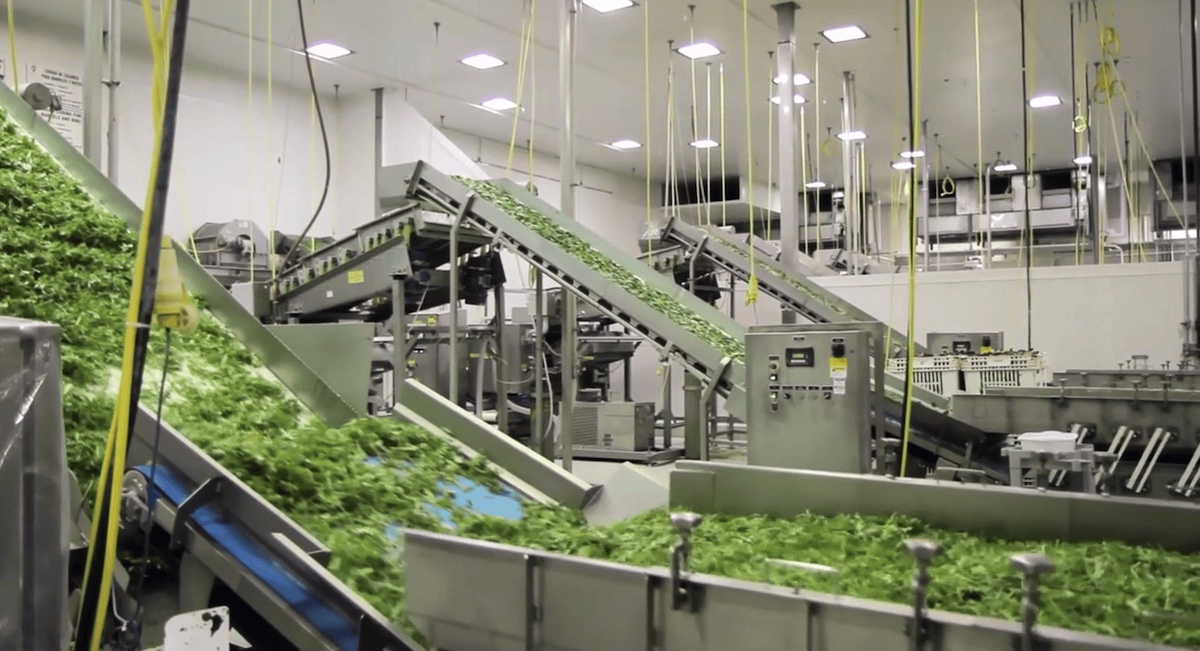 It is important to consider the needs for the entire facility in the design process, including how the product will be handled in the harvesting stage.
Photo courtesy of Hansen-Rice
Utilities are another consideration early on in the site evaluation process. Energy consultants and/or utility engineers can be extremely helpful in catching early pitfalls. For example, a retrofit site might have a transformer fed by a nearby power station, but "diligence needs to be done to understand how much power is coming to that transformer," Crozier says. "Does that transformer have the capacity to expand? What was that transformer sized for in the current or past applications? And is it feasible to bring the type of operations that the facility is being planned or designed for… That goes across the board for utilities."
Anderson and Crozier both stress that clear lines of communication must exist between all stakeholders involved in the project. Doing so could result in mission critical failures. For example, withholding an OPR from a commissioning agent will severely undercut the agent's ability to optimize the CEA facility, as part of their job is reviewing the OPR to ensure all parameters are defined and addressed in the Basis of Design document.
There are no trade secrets when it comes to facility design, Anderson notes, so he advises everyone just "be transparent. Don't silo information."
Meet Our Members
Thank you to our members who participated in this blog. Read more about their organizations below:
Anderson Porter Design, Inc. (APD) has over twenty years of architectural design experience with a coalition of architects, designers, and planners implementing lean design solutions for controlled environment horticulture, food and drug manufacturing facilities, and retail dispensaries, working with clients nationally and internationally to build world-class facilities.
Since 2014, their expertise has excelled within the cannabis Industry as a knowledgeable resource for consulting and design services for cultivation, extraction, testing, and retail dispensary projects.
APD brings expertise in workflow efficiency with energy-efficient and sustainable building practices of fundamental importance to cannabis facilities. APD understands the importance of strict protocols, quality management systems, and current Good Manufacturing Practices (GMP) required in such facilities.
Hansen-Rice, Inc. (HRI) is an integrated solution provider of consulting and construction management capabilities with a 40-year history of successfully converting ideas into optimized outcomes. HRI has deep expertise in food processing, agriculture facilities, and temperature-controlled environments. We are licensed nationwide and deliver on your business goals and objectives throughout the project lifecycle, from ideation, through design and construction, to turnover and commissioning.